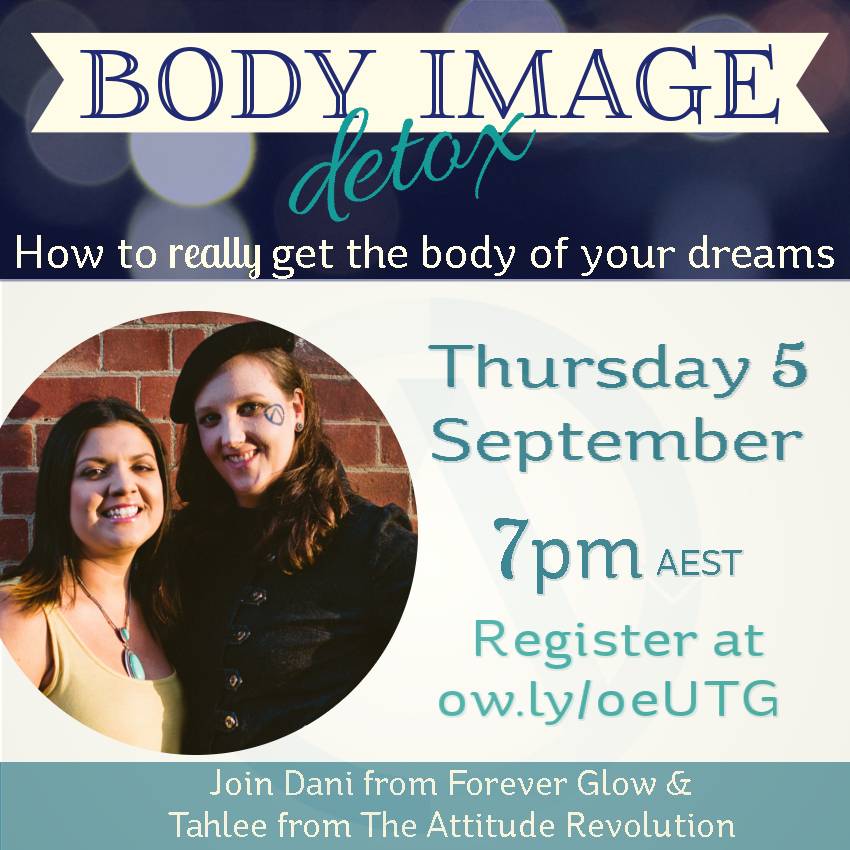 Spring is in the air (in Australia) - especially where I live in Queensland. Blue skies, warm sunshine, birds singing. You get the idea.
So of course, it's that time of year when everyone starts talking about losing the winter weight, spring cleaning and the ubiquitous detox. Which is all fine.
But that only covers your body. What about your body image?
If you're anything like me and mah girl Dani from Forever Glow, then you've suffered from poor body image. Maybe you still do.
Dani and I both know what kind of impact poor body image has (hint: it affects ev.ry.thing!) and we've both done a lot of work to be able to smile at our reflections.
So we've put our heads together and designed a free webinar to help you detox YOUR body image.
We'll share our personal journey's of how we transformed our body image. Plus you'll learn:
How to glow inside AND out;
How to do a 180 from self loathing to self love; and
The two most important factors for rocking your body, right now!
It's gonna be fun (Dani and I always make each other laugh when we're together), interactive (you'll get A's to your Q's) and insightful (we're all about practical wisdom!)
Click here to register - remember it's free, free, free! Don't delay because places are limited and we wouldn't want you to miss out.
PS - This event is part of Body Image Awareness Week. Check out the fabulous work of the Butterfly Foundation who support Australians experiencing eating disorders.