Each Revolutionary Review is always from the heart! I'll never recommend something I haven't enjoyed. Because if something is a drag, I won't finish it (my life's too short) and you don't need to read about it (your life's too short).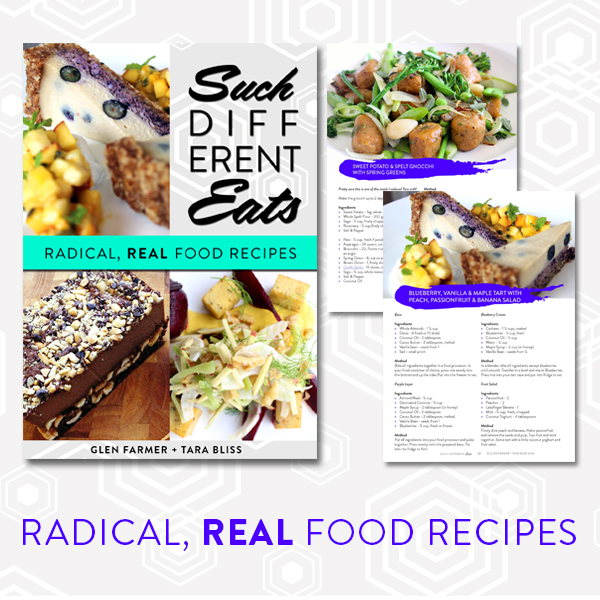 Remember that time I made a raw snickers slice and frothed about it all over Instagram?
Well that delicious recipe was care of Tara Bliss and chef hubby, Glen Farmer.
Now they've knocked heads to knock up even more crazy delish (and nutrish) recipes.
What it is:
Such Different Eats is a collection of nourishing recipes chock full to the brim of nutrients and flavour!
Why I love it:
Glen and Tara have created great looking and great tasting food that is great for you. They've shied away from labelling it with any specific diet descriptions - and instead just used real food in creative ways.
I love this because as you know - I don't believe there is one diet to suit us all. It's about eating the foods that bring you joy and nourish you - body, mind and spirit.
There's a few recipes that call for fermented foods which I've always wanted to try my hand at creating. These recipes aren't daunting at all - they're easy to follow and are great for gut healing.
Plus - it is chock full of dessert recipes that are nutritious!!! As someone who is trying to quit sugar, this is most excellent news. Double Choc Jaffa Cake anyone?
Why you need it:
Um - dadoi. To shove all their fabulous creations into your cake hole.
Get your copy of Such Different Eats here.
You're welcome.
{Full disclosure – the links contained in this review are affiliate links which means I get showered in raw chocolate and bling for my pimpmobile}