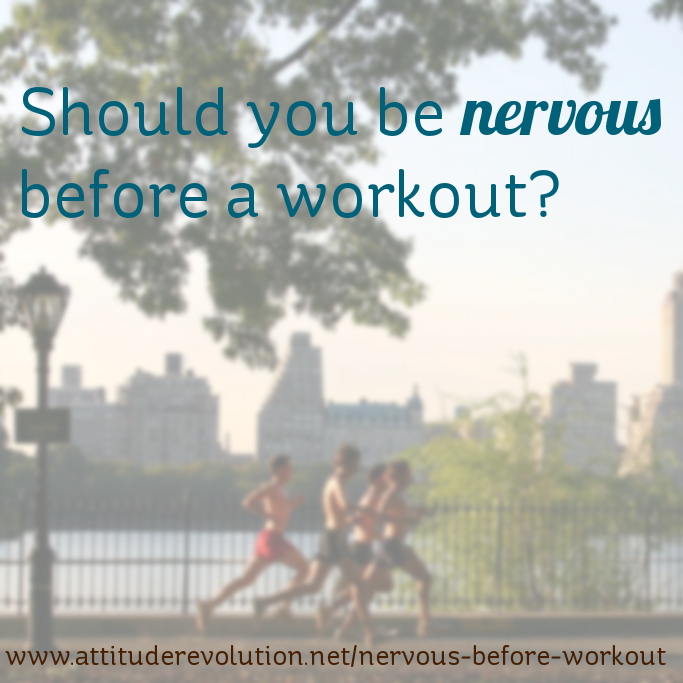 The short answer is yes with an if, long answer no with a but…
Let me explain. Long answer first…
Back when I was doing my Personal Training certification, one of my trainers said "If you're not a little bit nervous before each workout, then you're not about to work hard enough".
That quote really stuck with me, because it's something I felt. A lot.
For example, when I started riding my bike to work around the same time - I would feel nervous before heading out the door because I KNEW that as soon as I started riding, it was a long uphill battle. Literally. There was a really long hill that got steeper and steeper towards the peak.
It was hard work - thighs on fire, lungs puffing like a steam engine, cheeks blushing the colour of beetroot.
And you know that moment when you think "Gah! Stuff this!" and get off your bike and start walking it up the hill?
It was in front of  a high school.
Stupid hill. Making me look like a weak fool. And in front of a gaggle of school girls no less!
It wasn't the most pleasant way to start the day. But I kept to it because I kept remembering that quote. I kept thinking I should be nervous. And therefore miserable.
So you can see that there's two things wrong with this statement: "If you're not a little bit nervous before each workout, then you're not about to work hard enough".
1. It assumes that only working to failure or VERY HARD is a worthwhile workout
2. It's coming from a place of fear
Working out hard can be fantastic. It can feel amazing. And lot of people enjoy it (including myself from time to time).
But if you're pushing yourself to failure each and every time you workout (and feeling scared in the process) - you could actually be doing more damage than good.
3 Reasons Why You Shouldn't be Nervous Before a Workout
Catabolism
A fancy word that means you've hit the wall. When you work out - you break down muscle tissue. As it repairs, it becomes stronger - which is what leads to increased fitness and strength over time.
But guess what repairs muscle?
Rest.
So if you're still sore from that killer workout you did the day before? Take a day off. Do nothing. Your body will thank you for it.
Variety
If the only workouts you ever do are Max-Burn-AMRAP-Wipe-The-Floor-With-Me workouts because you think they're the only one's worth doing, you're missing out on fantastic workouts. I'm talking roller skating, hula hooping, Yoga, dancing in your loungeroom, bush walking, reformer Pilates.
Forget about the Calories In Calories Out equation and add in some fun ways of getting your body moving.
*AMRAP = As Many Reps As Possible
Cortisol
Adrenaline is the stress hormone that makes you run faster than a tiger wanting to eat you. Cortisol is the long term stress hormone usually prevalent during times of famine and war.
If you're constantly trying to "whip yourself into shape" or punishing your body because of that binge you had last night, your body won't perceive your fear and shame as a good motivator. In fact, quite the opposite.
It will assume that you are in terrible danger of never eating again and begin to store fat to shield you from the famine it thinks you're enduring.
What about the good news? The short answer?
One Reason Why Being Nervous Before a Workout Could Be Helpful
Your attitude.
Yep - once again, it all comes down to attitude.
If you believe that the anticipation / stress / nerves you have before your workout is priming your body for the challenge ahead… If you imagine that the workout ahead of you (whether it's a challenge because it's a competition or just because you're getting back into exercise after a period of time) is a challenge you can not only handle but embrace with determination… If your attitude is one of courage and not fear…
Then your nerves will help you.
Don't believe me? Let the super intelligent and oh-so-lovely Kelly McGonigal explain it in this fantastic TED talk.
Know someone that loves to workout? Be a good friend and make sure they're approaching their workouts with the best attitude by sharing this post with them.
Image credit: Gruban