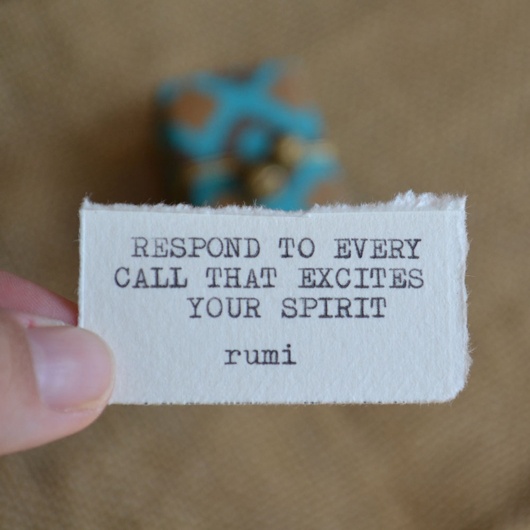 The myth of "a calling" seems to be prevalent in our society.
The idea that you need to find your "one true purpose" causes a great deal of stress for those of us who are fascinated by the new (ahem, me *cough cough*)
Marie Forleo coined the term "multi-passionate entrepreneur" and I for one heartily resonate.
You see, I've changed careers no less than 6 times. I completed my Bachelor of Music at uni and tried to be a performing artist. I then co-founded a meditation music business which I ran for 8 years. I've also been an Arts Administrator for a non-profit graphic design company, an Environmental Project Manager for a mining company, a Personal Trainer and now an Attitude Coach.
Each time, I was wholeheartedly passionate about what I did and threw myself into the work. I loved all of those jobs and had many hours of fulfilment out of them…
Until I would feel the familiar yearning. The itchy feet. Spurring me on to follow my new found interest.
Now these disparate jobs may be seen by many as done by someone who is "flaky" or "inconsistent. Like having multiple interests, or changing your mind is a problem.
Of course I disagree. Each of these roles fulfilled a calling. They served a purpose.
Tara Mohr put it brilliantly in her course, Playing Big (which I've been doing for the last 8 months):
Callings evolve and end. They are many and they are fluid. - click to tweet
Also, callings aren't always centred around career. There are many callings that involve creative expression, supporting a loved one, or fighting an injustice.
Right now, I'm being called back to music again.
When I was running my meditation music business, I truly felt I had found my place. When I let go of it in 2010, I stopped writing music completely. Part of me missed it and I lost a huge part of my identity. Music had been a massive part of my life since I was 5 years old.
But there were other pursuits calling me.
At times, I wanted to get back into music but I wasn't sure how. I had no reason for it. No purpose. So I thought.
At the beginning of the year, I realised music had become my calling again.
It seems even The Attitude Revolution is an evolution of interlinked callings. All the topics here of Food, Mood, Do and Tude represent my many interests in eating well, feeling good, moving well and thinking well.
Issues with food, overexercising, poor body image and self loathing all stem from one place.
The mind.
These are all mental health issues and need to be treated as such.
So it seems very natural to return to creating meditation music again. And it's why I'm so excited to use meditones in my music again. Meditones is a technology that I co-developed all those years ago that makes meditation so effortless.
I've personally experienced and witnessed the power of meditones to heal anxiety, improve emotional resilience, bring confidence and clarity and really change lives.
In essence, meditones literally help you Change Your Mind. About your body, about yourself and your world. Check out this fun video to get a sneak preview of how meditones work.
What about you comrade? What's calling you right now?
Do you know someone who could use some help feeling more calm or confident? Share this post or the meditones page with them. You could be doing them a massive favour!